Watershed
42" x 72" x 28"
ferrocement

Watershed was installed on August 1, 2007 in Bristol, Tennessee/Virginia for exhibition through July 2008 as part of the Art in Public Places program of Arts Alliance Mountain Empire. Watershed is at 517 State Street on the Virginia side of the street, opposite the restored art deco Paramount Theater.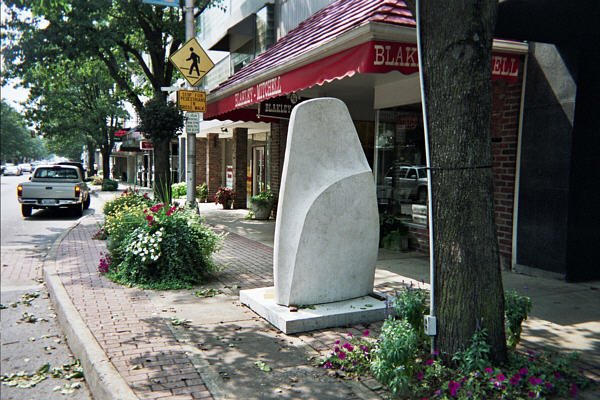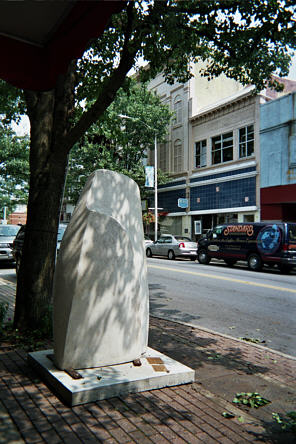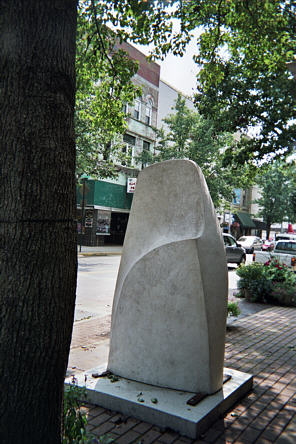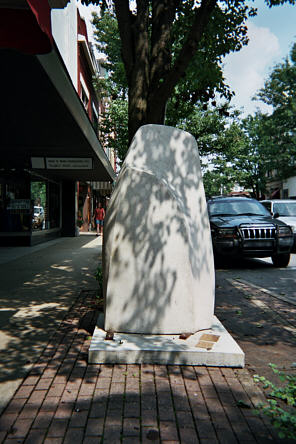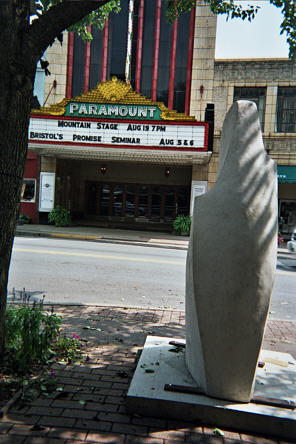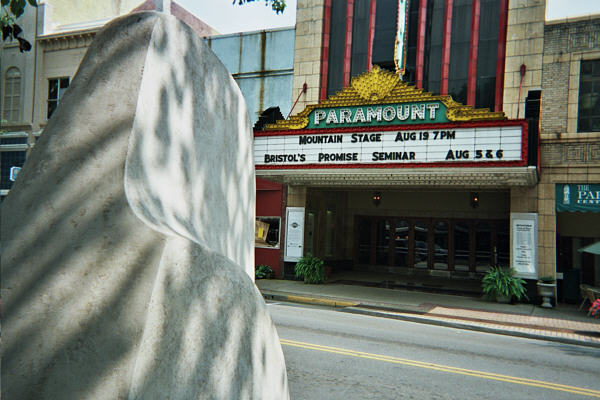 ---
Earlier exhibitions of Watershed
Installed June-September 2006
Center for Craft, Creativity & Design
Hendersonville, North Carolina
as part of the Mountain Sculpture exhibition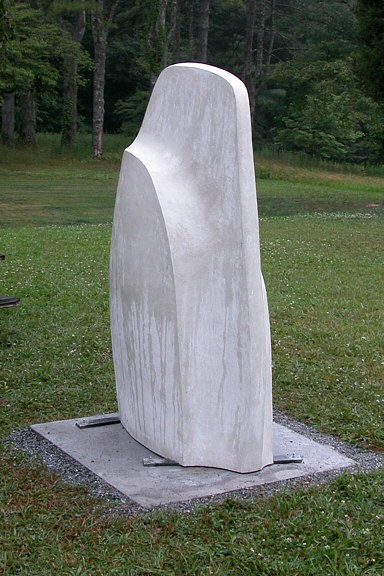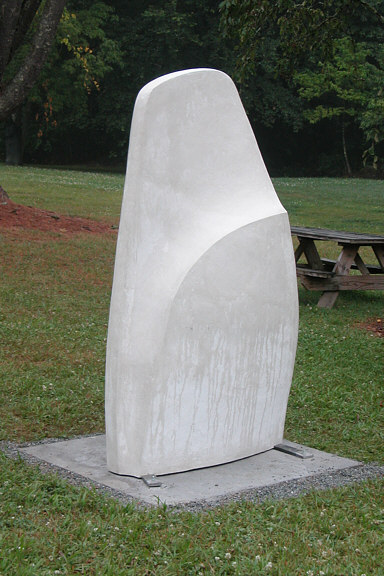 Artist's Statement
for the Mountain Sculpture exhibition opening,
July 8, 2006

Sometime this year or next, for the first time ever, more than half of humanity will live in cities, without direct knowledge of where their food and water come from. This is the kind of occasion that we call a watershed event, when we move from one era into the next, where all the rules are different.
My sculpture didn't start out being about this. The beginning was simple: I was going to create an outdoor sculpture. Outdoor sculptures need to shed water.
But as is so often the case, art and life became interwoven, as associations continued to present themselves. For instance:
* My wife and I live within view of the Eastern Continental Divide, where one raindrop may eventually flow to the Atlantic Ocean, and another raindrop falling right beside it may flow to the Gulf of Mexico.
* For two years I have been involved in the Bald Creek Local Watershed Plan, a community effort to preserve and improve water quality in the eighteen-square-mile area drained by Bald Creek, including the creek that my wife and I live beside, and the gravity-fed spring that serves our house.
So the abstract forms that I started playing with, forms that I would enjoy seeing rain splash over, inevitably came to incorporate those experiences and my response to them.
Since this is the largest single form I have created with ferro-cement to date, it became a personal watershed event in another sense.
So after the long dry spell that conveniently allowed me to complete the sculpture while working outdoors within sound of our creek, I was delighted to be able to see water flow over the installed work. I got that feedback right away because, fittingly, we installed it in the pouring rain.
---
Watershed
Installed September 7 - October 6, 2006
RiverSculpture Festival
French Broad River Park
Asheville, North Carolina

Once again, installed in the pouring rain!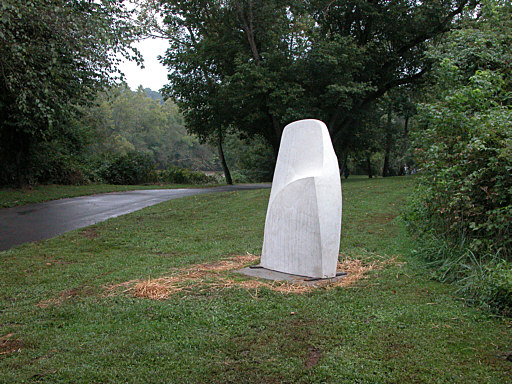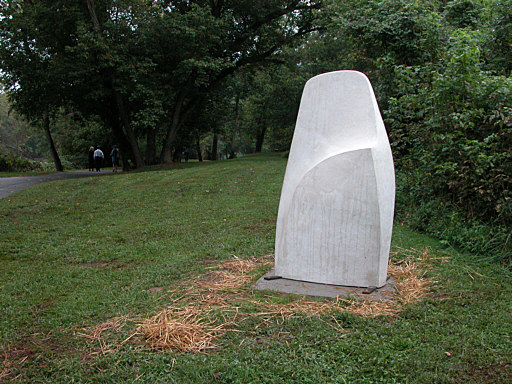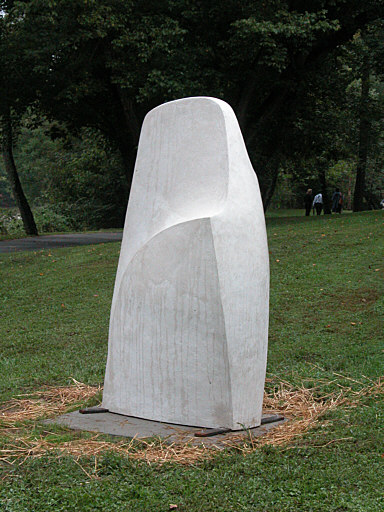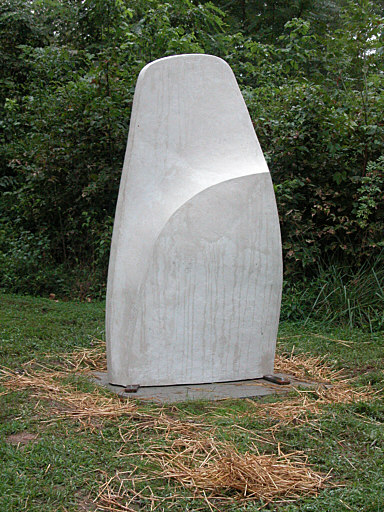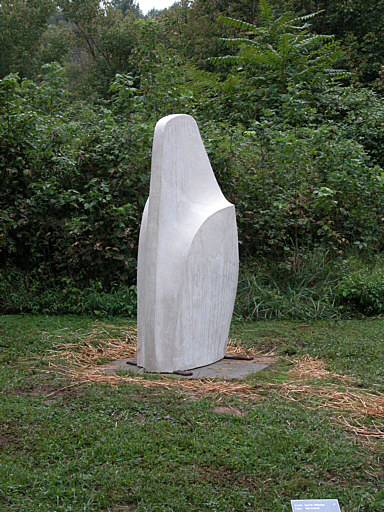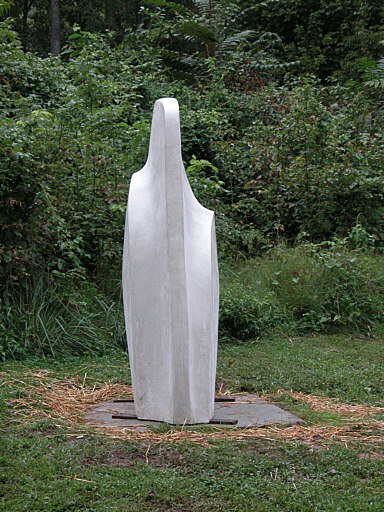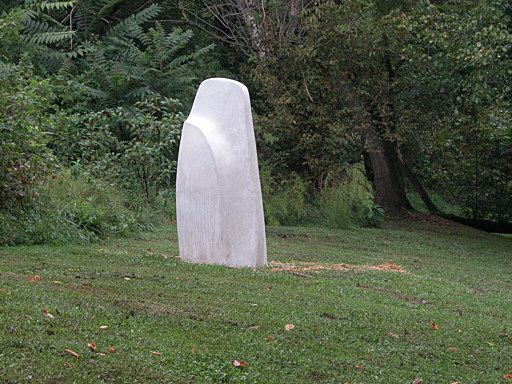 Watershed moved to Asheville City-County Plaza
for the second half of the RiverSculpture Festival,
October 9 - November 24, 2006